Different Drummer Belly Dancers mixes traditional belly dancing and modern music, borrowing from Folkloric, Cabaret, American Tribal, and Fusion styles of belly dance. We believe the power, beauty, joy, and grace of belly dance can be expressed in our modern 20th and 21st century music. Plus audiences love it!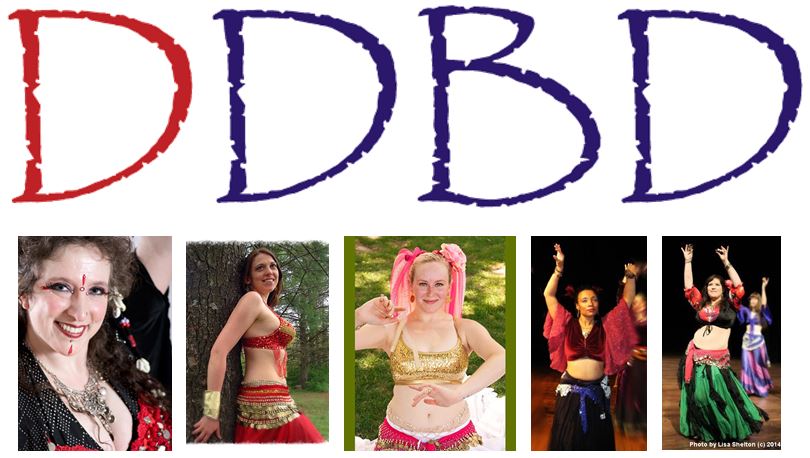 Visit the News page for more information about DDBD.

Check out our special DDBD Gen Con Webpage for information about our biggest event.
DDBD Double Header Friday, November 21st!

FIRST:

November 21, 2014 - Half-Time Show, IU Women's Basketball Game - Game Starts 7:00 pm; Half-Time Approx: 7:30-7:45pm. Tickets to game: $5 adult; $3 youth; Free for IU Students, Staff, & Faculty. This is a dream come true! Margaret is a huge supporter of the IU Basketball Women! Troupe members Angela and Michelle are going to help her show their love and support of this great team! Come and enjoy a thrilling game with spirited young athletes and a heart-pounding half-time show. We are going to light it up! Links: IU Women's Basketball

SECOND:

November 21, 2014 - Hatje's Hafla - Player's Pub - 8:00-11 pm - Donation at the Door for Middle Way House APPRECIATED. Hatje's Halfa is a Bloomington tradition. This hafla, or belly dance party, helps raise money and awareness for Middle Way House, Bloomington's shelter for battered women and children. Troupe member Laura will be doing a special solo! Plus other incredible and talented Bloomington belly dancers and musicians will be there to bring joy to your heart and a smile to your lips. Links: Player's Pub; Middle Way House.
---

"If a man* does not keep pace with his companions, perhaps it is because he hears a different drummer. Let him step to the music which he hears, however measured or far away."

- Henry David Thoreau (1817-1862)

* or woman - Margaret Lion (2008)