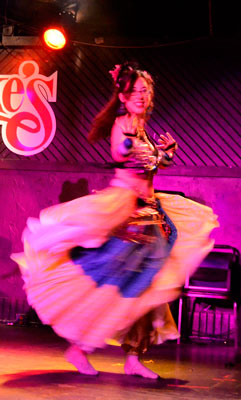 Brittany has been the student of vaious dance types since she was 13. What started as an interest in tap then morphed into jazz, then ballet, pointe, hip hop, and finally jazz pointe. However, it wasn't until she was in college that she found her one true dance love, bellydance. After taking her very first class, with her mother as a fellow student, Brittany spent a year dancing with the ladies of Rakstar Fusion. Sadly the next few years included little bellydancing as Brittany juggled school and work. However, with her move here, she decided to shake out her bellydance outfits and shimmy her way back to the world of bellydance. Brittany couldn't be more excited to be a member of Different Drummer Belly Dancers!
When it comes to interests and hobbies, Britt is all over the place. Currently, Brittany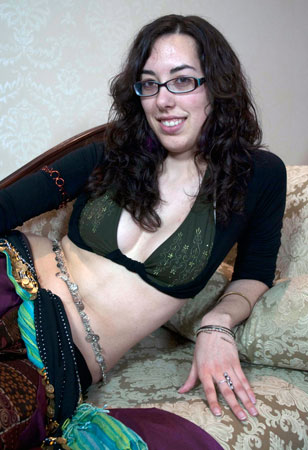 is a Master of Library Science candidate in the School of Library and Information Science at IU. She has a semi-insane interest in teen librarianship, as well as management. When not dealing with school related activities, Brittany is quite enamored with learning to be as good as a cook as her mother (not here yet, but practicing is a completely delicious experience...most of the time.) She enjoys almost any craft that includes fibers: sewing, crocheting, embroidering, ect. And copper wire. While not a fiber, it sometime gets used just like yarn would, so its one and the same to her. She is also hard at work on trying to be considered a "legit" gamer by her siblings. Brittany is also discovering her passion for choreography; mixing bellydance with currently overplayed pop music is her current obsession.
When it comes to bellydancing, Brittany is a staunch believer that it is a dance for everyone. Male, female, young, old and everyone in between and imaginable can bellydance. All you have to do is believe it.

Liby and Brittany - Photo by Lee Shaw
Brittany reclining photo also by Lee Shaw.
---