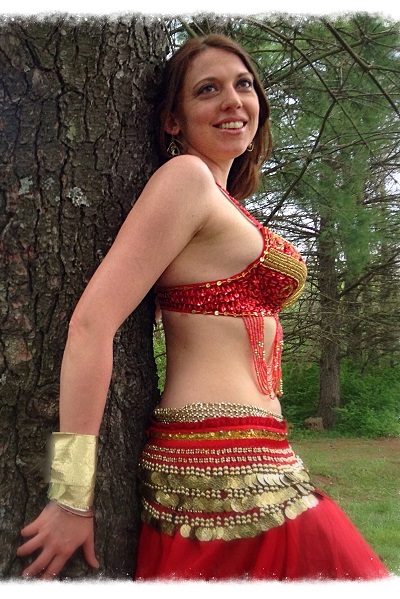 Anaelle's first dance move was twirling her sister, Amy, around their living room to the crooning ballads of New Kids on the Block (when they were actually new and most of them were sill kids). Because Anaelle was almost 6 years the elder, she consistently took the lead: a habit that comes in useful during times of crisis, but proves hazardous in a waltz partner. It's been group dancing ever since.
In 7th grade, Anaelle made her school's cheerleading squad and continued dancing, flipping, jumping, and flying into college. While working on her bachelor's degree, Anaelle needed a two credit-hour course; on a whim, she signed up for a modern dance class. Soon, she was studying contemporary and modern dance under Susan Gash of the Gash/Voight Dance Theatre in St. Louis.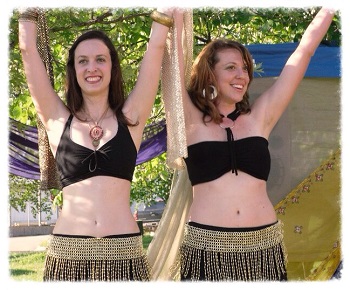 After moving to a new city, Anaelle met Nicole Pye (she's the brunette in one of the pictures) who had been curious about a local belly dance studio. One class--and The Real Woman Creed--later, and Angela was hooked. Kandice Grossman of MoonBelly Dance Studio, herself a student of Suhaila Salimpour, seamlessly ties together her love of dance with her academic study feminist theory as a Professor of Women's Studies.
In the summer of 2012 Anaelle moved to Bloomington, Indiana. She's grateful to Margaret and the women of Different Drummer Belly Dancers for helping her find a belly dance home.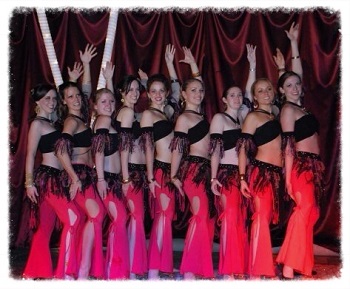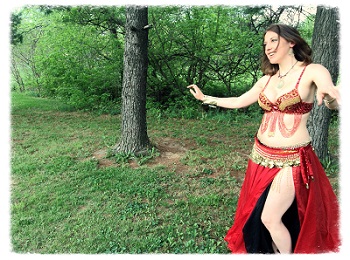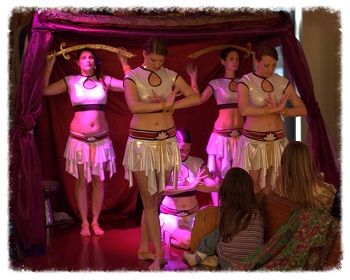 ---
Back to Different Drummer Belly Dancers About Us Page.